Community Engagement Initiatives
The Tonganoxie Police Department has five community engagement initiatives
Police helping students in their reading endeavors.
Learn more about Lead to Read >>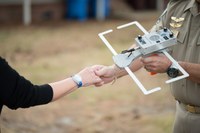 Project Lifesaver is a community-public safety partnership that assists with safeguarding individuals who suffer from cognitive conditions.  Many times, cognitive conditions such as Alzheimer's or autism can cause some people to wander from home. 
Learn more about Project Lifesaver >>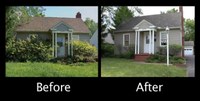 Crime Prevention Through Environmental Design (CPTED) is an approach for residents and business owners to manage the environment around their property.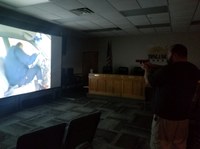 Today's use-of-force simulators are much more than shoot, don't shoot tools. They are extremely sophisticated, and each training scenario can change or conform to the student's actions.
The training value has made simulators invaluable tools in contemporary law enforcement training.  The Tonganoxie Police engage in this training once a year and invite citizens to participate.
Learn more about how Tonganoxie Police use the MILO Simulator >>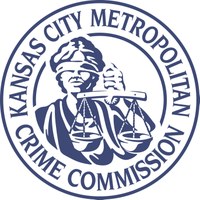 The Kansas City Crime Commission sponsors initiatives that make our communities safer.  Citizens can provide crime tips through the TIPS Hotline, but now the Crime Stoppers P3 Scholastic program has been instituted at the Tonganoxie High School.