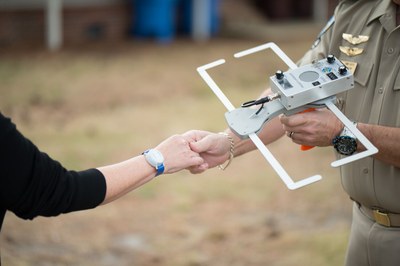 All Leavenworth County law enforcement agencies (as well as the Tonganoxie Fire Department) have come together to launch Project Lifesaver.  Law enforcement participants include the Leavenworth County Sheriff's Office, Leavenworth Police Department, Lansing Police Department, Basehor Police Department, and Tonganoxie Police and Department.
Project Lifesaver is a community-public safety partnership that assists with safeguarding individuals who suffer from cognitive conditions.  Many times, cognitive conditions such as Alzheimer's or autism can cause some people to wander from home.  Leavenworth County law enforcement can now utilize radio frequency technology (that correlates with a bracelet worn by the vulnerable person) to identify a consumer's general location.  Thereafter, trained staff execute innovative search and rescue techniques in concert with Lifesaver technology. 
If citizens are interested in a loved one becoming a Project Lifesaver consumer, contact us for an appointment. 
For more information on Project Lifesaver, go to   https://projectlifesaver.org/